Meet Even More of Aviations Finest Famous Pilots Up Close and Personal.

"Pappy Boyington" One of World War II's Most Famous Pilots and Flying Aces in the Pacific Theater. Awarded the Medal of Honor for 26 air victories </b> before he was shot down over the Pacific on a raid to Rabaul on January 3, 1944. A Japanese Submarine fished him out of the water and never reported taking him prisoner. After an extended search he was listed as MIA and remained that way until after the war. On August 29th, 1945 he was released from Omori Island near Tokyo in good condition.

This is the first time anyone knew for sure what had happened to the famous pilot. After be shipped back home pappy had Quite a warm welcome home reunion with the famous pilots from the Black Sheep squadron 214. Shortly after that he was awarded the Medal of Honor along with several other awards and his new promotion to Lt Colonel. They were pretty hard on old Greg while he was a prisoner of war with the Japanese, and they beat him often. But occasionally some guards would sneak him some Saki.This made all the difference in the world to Greg.


Gregory Boyington was born in the logging town of St Maries Idaho on December 4, 1912. He took his very first airplane ride with Clyde Pangborn. Who would later fly non-stop across the Pacific Ocean among other activities, becoming a famous pilot himself.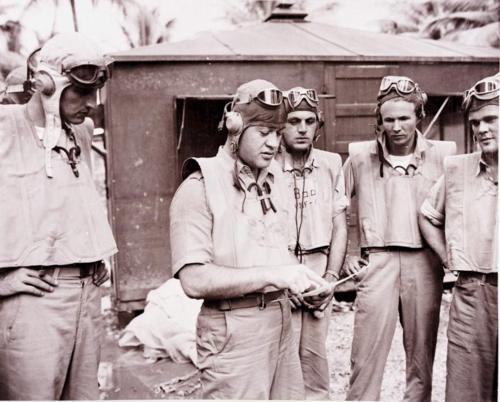 Picture From National Archives.
Greg attended the University of Washington where he received a B.S. Degree in Aeronautical Engineering. For a short time after graduating he worked for Boeing as a Draftsman and Engineer. On February 18,1936 Gregory Boyington accepted an appointment with the Marine Corp reserves as an Aviation Cadet. He was assigned to Pensacola, Florida for flight training and graduated as a Naval Aviator on March 11,1937.

Boyington resigned his Marine Corp Commission in August 26th of 1941 to join the short for Central Aircraft Manufacturing Company. Later known best as American Volunteer Group, under Claire Chennault flying P40 Warhawks with their noses painted like a sharks mouth. These famous pilots would become known as the Flying Tigers and rack up quite a list of aerial victories with Greg receiving 3.5 victories. Greg unknowingly was on his way to becoming a very famous pilot.

In the middle of 1942 he broke his contract with the (AVG) to go back home and join his beloved Marine Air Corps. Once back he was reassigned to Guadalcanal with the VMF-121 as the Executive Officer. After a while Greg got wind they were getting ready to for a new squadron. After some fast talking with the right connections he was transferred to the VMF-214.

Exclusively known as the Black Sheep Squadron, which was a collection of miss fits and screw-offs. But soon Pappy was like a father to them, and quickly earned their respect. The Black Sheep Were soon famous pilots as well racking up quite a record of destroyed ground aircraft and air victories along with nine aces in the squad.

This is where he became known as "Pappy", the old man of the group because he was 10 years older than most of his men. After the war Greg Boyington wrote a book called Ba Ba Black Sheep, which then went on to become a hit TV Series loosely based upon Actual events during his time in the Pacific. Robert Conrad would become the lead actor of this popular new series. Boyington lived a very fast and hard life while drinking & smoking through most of it. But in his later years he finally gave up drinking, but not smoking.

Which was more than likely responsible for his condition later in life. Pappy had a total of three kids, one girl committed suicide, and one boy entered into the Air force Academy in 1960 and retiring as a Lt Colonel. At age 75 in Fresno, California on January 15th, 1988 Greg died in his sleep from complications of his cancer due to heavy smoking!

As far as Famous Pilots go "Pappy Boyington" will always be remembered as one for his unwavering sense of duty to his Country. He always cared very deeply for the men he served and fought with. We honor him and all like him around the world, for their duty to Country and God. Without the true grit that men like Pappy showed during World War II. Where would countries around the world be.


Bob Hoover, Famous Pilot, Test Pilot and Airshow Performer around the world. Bob Hoover was born on January 24,1922 and was generally known to all as "The Pilots' Pilot" when it came to flying. Bob Hoover enlisted in the Nashville, Tennessee National Guard and trained in the Army Air Corps.

In 1943 he was sent off to Casablanca then on to Sicily attached with the 52nd Fighter Group. In 1944 on his 59th mission flying a Mark V Spitfire that had mechanical problems, he was shot down by a Folcke Wolf FW-190 off the coast of Southern France. He was picked up by the Germans and spent a while in Stalog Luft 1 in Barthe Germany. He managed to escape and steal a FW 190 and flew to safety in the Netherlands.

After the war Bob was re-assigned to Wright Patterson Field where he met and became friends with Chuck Yeager. The two became fast friends. Bob Hoover was hand picked by Yeager to become his backup pilot on the Bell X-1 program. He flew chase in a Lock heed P-80 jet while yeager was flying the X-1 going supersonic to Mach 1. In 1948 Bob decided to leave the Air Force and went to work for a while with Allison Engine Division.

During Korea Bob worked for North American Aviation, teaching pilots to dive-bomb in the F-86 Sabre. Bob Hoover also visited many Reserve Air National Guard units and happily demonstrated fighter capabilities to the pilots. Bob flew the FJ-Fury, F-86, and the F-100 Super sabre for flight testing.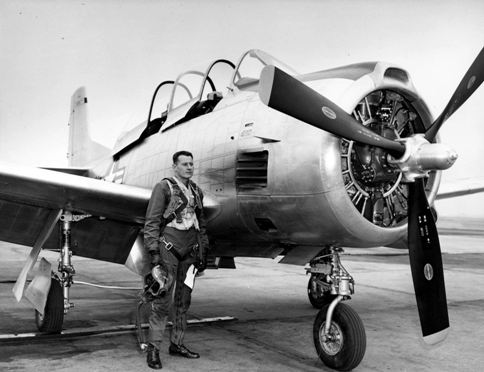 Picture From National Archives.
In the 1960s, Bob Hoover promoted North American by flying none other than the North American P-51 N2251D in all the various Air Shows around around the country. In 1971 an oxygen bottle exploded destroying Bobs first Mustang, so North American replaced it with another one, which Bob passionately called Old Yeller. Bob Hoover thrilled crowds for years with his amazing piloting skills.

Bob set records for both Transcontinental and the best "time to climb" speed. He's personally met such famous pilots as Orville Wright, Eddie Rickenbacker, Charles Lindbergh, James H. Doolittle, Jacqueline Cochran, Neil Armstrong, and Yuri Gagarin. Bob worked for Aero Commander company as well demonstrating the capabilities of the Aero Commander shrike plane.

Bob Hoover went to work for Aero Commander as well flying the Aero Commander Shrike and demonstrated its, capabilities around the country at Air Shows. In his routine he would turn both the engines off, then dive the plane to gain speed then do a Loop, a 10 point hesitation roll and land the plane on one wheel, then the other and still have enough speed to roll back to the parking ramp. As famous pilots go he was an amazing pilot.

At one time while Bob was flying the Shrike he Poured ice tea in a cup while rolling the plane, not spilling a single drop. Is that truly incredible or what! That is the stuff that makes famous pilots who they are. Bob also flew old yeller at the Reno Air Races, he flew top cover and helped many pilots down when they experienced problems with there planes.


Bob had to give up flying in 1990 because he could no longer pass his flight physical. But I have to tell you what an amazing career this man had for many great years! Bob truly earned the title of Famous Pilot. Bob Hoover was considered by many as being the founding Father of Aerobatics, Jimmy Doolittle called him the best Stick and Rudder pilot he ever knew.

Here are some of the awards Bob Hoover received during his illustrious aviation carer. The Distinguished Flying Cross, Medal for Valor, Air Medal With Clusters, Purple Heart, and the French Croix De Guerre. The Smithsonian Institute named Bob Hoover the Third most famous pilot in History!


Chuck Yeager, one famous Pilot with the "Right Stuff" during the right time in History. Yeager was born on February 13,1943 and stationed in the United Kingdom with the RAF in Leiston, flying the new P-51 Fighters. After only eight missions flown, Chuck Yeager was shot down over France on March 5th, 1944 with only one air victory to his credit. With the help of the French Underground he was able to escape to Spain in March and returned to England on May 15th 1944.

Normally fliers were not allowed to fly again who had been shot down & helped by the French resistance. But by the time Yeager got back to England the Allies were already openly fighting in France. Chuck Yeager was determined though to fly again, so with the help of a fellow Bomber Pilot they appealed the decision with a letter to the War Department. Shortly there after General Dwight D.Eisenhower re-instated both the pilots to active service again on June 12th 1944.

A short time later after being re-instated Yeager became both ace and Famous Pilot in one day by shooting down five planes on one mission. Later Yeager shot down one of the first Messerschmitt Me262 while he was coming in for a landing. By the end of the war He was credited with 11.5 Arial victories. Chuck Yeager Was promoted to Captain before the end of his Tour in Leiston, England, on January the 15th, 1945. Yeager's next assignment would take him to Moroc Army Air Field later called Edwards Air Force Base to become a Test Pilot.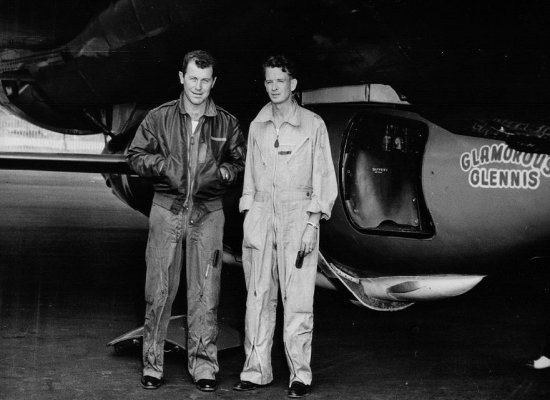 Picture From National Archives
On October 14th of 1947 while flying the Bell X-1, Captain Chuck Yeager broke the Sound Barrier at Mach 1.07 at an altitude of 45,000 feet becoming the fastest pilot in the world at that time. But do to the Top Secret nature of the mission, no one knew until sometime later. Although there were others that contend they broke the Sound Barrier before Yeager did there was no proof of this. Yeager went on to break many other high altitude and speed records while at Muroc even flying a captured Russian Mig-15 from Korea.

In 1953 the now Famous Pilot Chuck Yeager started work with the Air Force team on the X-1A Project. This projects mission was to Exceed Mach 2.0 in level flight. In May of 1953 at Rogers Lake, California the close friend of Yeager's and civilian test pilot Jackie Cochran became the first female pilot to break the Sound Barrier at a speed of 652.337 mph. She accomplished this in an F-86 Jet on loan from the "Royal Canadian Air Force. Her good friend Chuck Yeager was right by her side flying in the chase plane.

On Nov 20th of 1953 Scott Cochran flew Mach 2.3 in a NASA built D-558-11 Skyrocket, but before Scott could even celebrate this. Chuck Yeager and Team Member Jack Ridley, had shattered his new record and set there own of Mach 2.44 on Dec 12th of 1953. But not without it's problems, Yeager soon found himself spinning out of control from 80,000 feet to 29,000 in 52 seconds. But Fortunately Yeager was able to once again regain good control of the plane, and land her safely without any further problems. From 1957 into the 1970's Chuck Yeager commanded many different Air Force Fighter and light bomber squadrons.

He was based in the Philippines, South Vietnam, Germany and finally in Pakistan as an adviser during the War with India. He spent three great years there learning the language, back packing excursions to K-2 mountain, and flying his F-86 jet with the Pakistani Air Force. When Yeager looks back at the time he spent in Pakistan, it was some of the most enjoyable memories he had. After leaving Pakistan, Brigadier General Chuck Yeager officially retired from the Air Force on March 1st of 1975 at Norton Air Force Base. But this was not the end of the story for this now famous pilot.

He went on to became a consulting test pilot at Edwards AFB and with NASA. Chuck Yeager made advertisements for AC Delco, Automotive Division of General Motors. In 1985 famous pilot Chuck Yeager wrote his Autobiography with Leo Janos, which soon became a number one best seller. Later he was invited to drive the Pace car in both 1986 & 1988 Indianapolis 500 Races. Yeager also traveled the country giving speeches about his colorful carer and life in the Air Force. Also invited to give a speech on Stabilators, and there key role in giving us an air combat Domination.

Chuck Yeager also made great contributions to general aviation through the work done with The experimental Aircraft Association and other groups. He has been a Guest speaker many times at the Oshkosh Theater in the woods. he has also flown his favorite plane the P-51 around the country at various Air Shows. Chuck Yeager has earned the title of Famous Pilot for his out standing contributions to Aviation.

On October 14th of 1997 Yeager officially retired again from the air force for the final time. He and a close friend Bob Hoover made one more flight together to commemorate the occasion. Chuck Yeager flew the F-15D Flight Eagle to over Mach 1 one last time. While Bob flew chase plane an F-16 Fighting Falcon by his side in, one last time. This all took place 30 years after his official retirement from the Air Force.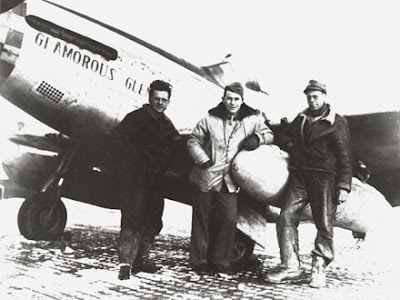 Picture From National Archives.
From 1941 to present day Major General Chuck Yeager has received many awards for his tremendous services in the USAF. Here are his military accommodations below.

•Air Force Distinguished Service Medal.

•Silver Star, for shooting down 5 Bf-109's in a day with one oak cluster.

•Legion of Merit with one oak leaf cluster.

•Distinguished Flying Cross, for shooting down an Me 262 with two oak leaf clusters including, first to break the sound barrier.

•Bronze Star, for helping to rescue a fellow airman from occupied France, with "V" device.

•Purple Heart.

•Air Medal with 10 oak leaf clusters.

•Air Force Accommodation Medal.

•Distinguished Unit Citation Emblem with oak leaf.

•Air Force Outstanding Unit Award.

•American Campaign Medal.

•European-African-middle-Eastern Campaign Medal (8 battle Stars)

•World War II Victory Medal.

•Presidential Medal of Freedom.

Chucks wife Glennis Yeager passed away with Ovarian Cancer in 1990. Yeager was buy her side until the end. Thirteen years later while hiking in Nevada he met someone and started dating again. A short time later at age 80 he and Victoria Scott D'Angelo were married in 2003, and both live happily in Penn, California. We all solute Yeager for his service to God and Country.

Famous Pilot Jimmy Doolittle was America's answer to the surprise attack on Pearl Harbor Dec 7,1941. After the Japanese surprise attack, America was looking for payback. Less than Six months later on April 18th, 1942 the Doolittle Raiders delivered. It was a small pin prick compared to Pearl, but it was a bold one right through the heart of the Japanese. After that day the Japanese realized they could loose. America realized we could win and we surged ahead to victory all over the Pacific.

The Doolittle Raid was launched with 80 men total divided equally between 16 B-25 Bombers. The two Carriers used were the USS Hornet and the USS Enterprise. The Enterprise would be used for Air Cover while the B-25 Bombers launched from the Hornet. They intended to launch from 400 mile off the coast of Japan. But do to a chance encounter with a Japanese boats, a radio message was gotten off before they could be sunk.

So the Raiders had to launch ahead of schedule and 600 miles out instead. All but one B-25 crew and few other crew members of the famous pilots made it back alive. Three of the missing crews members were executed by the Japanese for their supposed war crimes.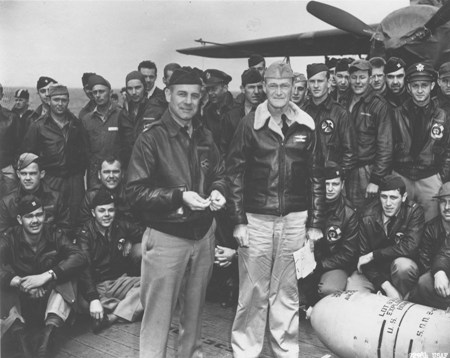 Picture From National Archives.
Jimmy Doolittle was born on December 14th of 1896 in Alameda, California. Attending the University of California, and took a one year leave of absence in 1917 to enlist in the Signal Corp Reserve as a Flying Cadet. He took his ground training at the University of California Aeronautics then his primary flight training at Rockwell Field. When World War I started Doolittle was assigned to many different Bases State side. Where he was a flight leader and gunnery instructor. By the end of the war jimmy received his Army Commission to 1st Lieutenant, Air Service on July 1st of 1920.

Over the next two years Doolittle studied Mechanics at Kelley Field, and Aeronautical Engineering at McCook Field. Eventually earning his degree at the University of California, in Bachelor of Arts. In 1922 jimmy Doolittle became one of the most famous pilots of the day. He flew the first Cross Country ever in a de Havilland DH-4. From Pablo Beach, Florida to Rockwell Field in San Diego, California in 21hrs 19mins earning him his 1st Distinguished Flying cross. A short time later Doolittle was assigned to McCook Field, in Dayton, Ohio

As both a Test Pilot & Aeronautical Engineer. Famous pilot jimmy Doolittle made history once again on the 24th of March 1924. Jimmy received his 2nd Distinguished Flying cross for studies on aircraft acceleration tests. He then got accepted to MIT where he earned two post graduate degrees in Master of Science & Master of Science in Aeronautics. After graduation Doolittle was transferred to the Naval Support Facility located in Anacostia, Washington D.C. where he received training in High Speed sea planes.

He was also stationed at Mitchel Field located in Long Island, New York. While there he routinely entered air races around the area. In 1926 Jimmy once again made history winning the annual Schneider Cup race in a Curtis R3C with an average speed of 232 MPH and later in 1926 awarded the Mackay Trophy. While assigned to McCook Field as the Instructor for the 385th Bomber Squadron with Air Corps Reserve.

He was also assigned to experimental work on the field and one day in 1927 performed the first ever Outside Loop. At the time this was a maneuver that was thought to be impossible. But Jimmy quickly proved that wrong, and this is the kind of thinking that makes a Famous Pilot who they are! They never accept what other people say, they make there own decisions. This is what makes the difference between Average pilots & Great pilots.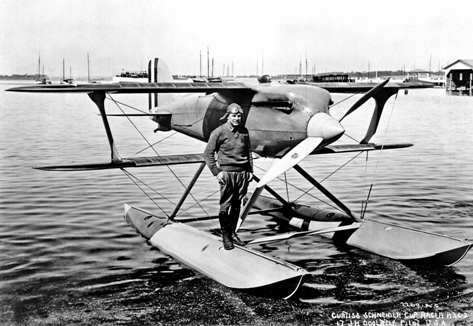 Picture From National Archives.
Jimmy Doolittle was also the Father of Instrument Flying. In 1929 he became the first pilot to takeoff and land while using instruments alone. This famous pilot knew that for the pilots to truly master flying, they would have to be able to navigate and fly by instruments alone, without any outside visibility. This would include, flying in the clouds, night flying, and flying in the fog. Doolittle realized pilots could no longer rely on seat of the pants flying in adverse conditions. Basically meaning what is sensed or felt while flying couldn't be trusted as what was accurate.

On February 15,1930 Doolittle resigned his regular commission and was commissioned a Major in the Specialist Reserve Corps in March of 1930. As time went by this now famous pilot Jimmy Doolittle got more famous by the year. He went on to win three more Big Air Races then decided to retire from racing while he was still in one piece. See awards below.

•In 1925 Jimmy won the annual Schneider Cup Race in a Curtiss R3C at an average speed of 232 MPH and was later awarded the Mackey Trophy.

•In 1931 Doolittle won the Ben Trophy for racing from Burbank , California to Cleveland, Ohio in a Laird Super Solution Biplane.

•In 1932 Doolittle set the land world's High speed record with a speed of 296 MPH, in a Shell Speed Dash .

•And again in 1932 this now famous pilot won the Thomson Trophy at Cleveland, Ohio with a speed of 252 MPH in the infamous Gee Bee R-1 Racer.


Here are some of the awards Doolittle received during his long and colorful carer in aviation. See awards below.

•Medal of Honor Citation for the Raid on the Japanese homeland manned by an all ,volunteer group of men. (April 18,1942)

•Distinguished Service Medal for exceptionally Meritorious and distinguished service to the while in command of the Northwest African strategic Air Force. (July 9,1918)

•Distinguished Flying Cross for his non stop flight from Pablo Beach, Florida to San Diago, California in 22 hours and 30 minutes. (July 2, 1926)

•Received a Bronze Oak Cluster in lieu of a second Distinguished Flying Cross for all the flight testing he did while flying a Fokker PW-7 At McCook Field, in Dayton, Ohio. (July 2,1926)

•Received the Silver Star for his action with The Strategic Air Force (Northwest Africa) for his leadership which led to his air crews destroying 48 planes in the air, and around 100 on the ground.

Jimmy Doolittle married Josephine E Daniels on December 24,1917 They had two boys who became aviators like there Father. Jimmy and Josephine lived a very full and happy life together. His wife passed away Just five years before he did. Doolittle lived until age 98 and passed away in September of 1993.

Few men alive ever accomplish as much as Jimmy Doolittle did in his life. He will definitely go down as one of those great famous-pilots in our aviation history. We will remember him and all the famous pilots around the world for their bravery and dedication in the pursuit of Aviation.


---
Thanks again for dropping in, I hope you enjoyed reading about all the various Famous-Pilots and as always "Happy Flying".
---
Return from Famous Pilots 2 to Pilot-Planes.com