Kit Planes That are Affordable, Building Tips and More.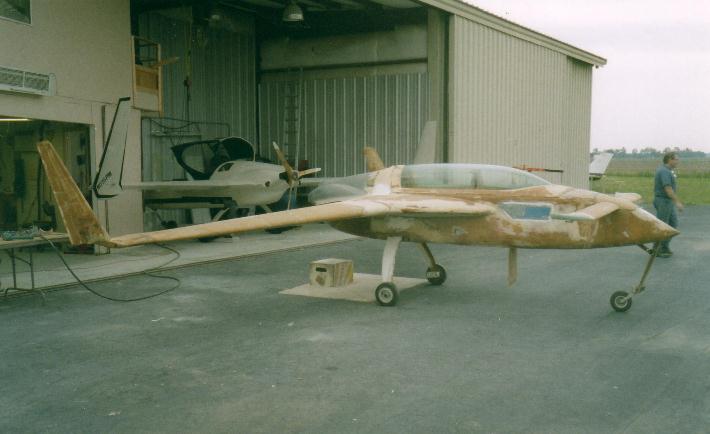 This is a Varieze  that my father and I are currently working on in our Hanger, it is about 75% complete.

---
The first time I saw the Varieze Kit Planes was with my Father at the 1980 Oshkosh Airshow. It was a very strange looking plane but it was unlike anything we had ever seen.The longer you looked at it, the more you came to admire the sinplicity & uniqueness of the design. I remember my father saying to me, we have to build or buy one of these someday I nodded my head in agreement thinking to myself, yes one day we will.
When looking for Kit to buy there are many great places to go, see list below.
You can look for projects in Trade-a-plane, many people start projects and never finish them for one reason or the other.
Another great place to look is www.barnstormers.com they sell almost anything in here as well.
Wicks Aircraft & Motorsports is another great source to choose from over 30 different Aircraft Kits. You can choose to build either a Wood Plane,an Aluminum Plane or a Composite Plane.
When looking for Kit Plane to build, I highly recommend that you look for one that has already been started. This will save you a lot of time and money in the building process. Many Pilots who start their projects either loose there health or there desire to finish them. If you take your time, do your research, and have the patience. You could wind up with a very in-expensive project to buy and finish. Especially right now in this economy, it's a buyers market out there.
A word of warning though, take your time and become very familiar with every aspect of the plane you are looking to buy. I recommend that you talk with various builders and learn all you can from them before setting out to purchase that first plane. The first time my Father and I bought a Varieze project that had previously flown, it turned into a nightmare. So I speak from experience when I say become an authority on the plane you set out to purchase. Know everything there is to know, and take someone with you who is very knowledgeable on the specific type plane you want to purchase.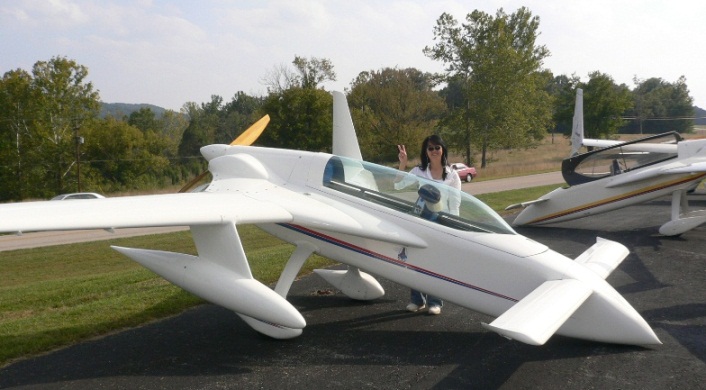 A friends Varieze with a Continental 0-200, 100 HP Engine & Baggage Pods, this airplane flies 200 mph

It's hard to believe that this airplane began with nothing more than big blocks of foam, epoxy, fiberglass cloth and a manual. But that is the way everyone begins building one of these. They are very simple to work on, but it takes quite awhile to finish one if you have a job and are working on it part time. Many are built by individuals who have retired and have the time to spend working on it.
Everything needed for your Kit Plane can be ordered through Wicks aviation & motorsports catalog. And most of your tools and supplies can be built by you and purchased locally at any near by hardware store. How long it takes to build a kit plane, depends on how picky you are and the amount of time you can put into it. All you need is the is the desire and a good place to work on it, many build them right in there garages.
The Varieze with a Continental-O200 100 hp engine is a two place Conard Home Built Composite Airplane. It's length is 14.2 feet the Wingspan is 22.21 feet long with a Wing area of 53.6 sq ft. It has an Empty Weight of 580 lbs and a Max Takeoff Weight of 1,050 lbs. This plane holds 24 US gallons in the wings with a 2.5 gallon reserve in the rear header tank.

This plane has a Max speed of 195 mph, cruises at 165 mph and a Stall Speed of just 55.5 mph. It has a 1,600 foot per minute climb rate and a flying range of around 850 miles on full tanks. This is one of the reasons why pilots love these planes so much. There fast, efficient, and very economical. Many Pilots have said it is much like flying a fighter the way you set in the cockpit. You lean back and your control stick is located along the right side.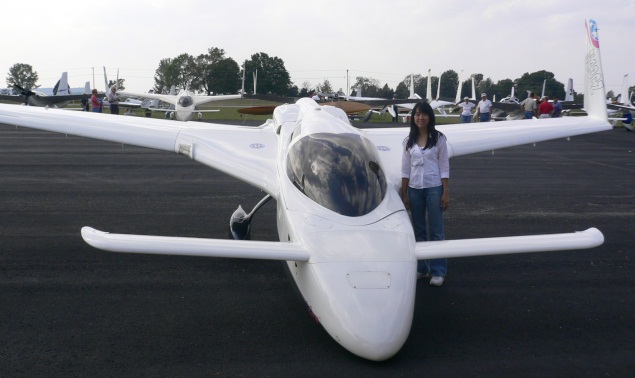 This is a Burt Rutan Design Cozy Composite Airplane

The Cozy is a four place composite Kit Plane, they are considerably larger than a Varieze as you can clearly see. Even though I have never flown one of these before, the people I have spoken to say they fly really great! But In my experience what ever a pilot owns and flies is always the best flying airplane to them. Having been a owner of planes in the past, I know all about that way of thinking.

Like the Varivigan, Varieze, & Longeze the Cozy III will not stall or spin like a conventional Airplane. This is because the Airfoil on the front of the plane called a conard is designed to stall first, thus preventing the primary wing from ever stalling out. Making this type of Kit Plane very safe for almost any pilot to fly and enjoy. These type planes are very stable and agile in flight as well. The cozy Plane is 16 foot 10.8 inches long with a wing span of 28 foot 1.2 inches and a wing area of 88.3 sq feet and stands about 7 foot tall.
The Performance Specs on the Cozy are as follows, the Cruise Speed is 191 kts at 75% power. The Empty Weight is 1050 lbs and the Max takeoff weight is 2050 lbs. The typical Engine used on these planes is the I-O360 180 hp Lycoming Engine. The engine has a 2000 TBO (Time Before Overhaul) and burns roughly 9.6 gallons of fuel per hour. The Cozy has a 1,000 NM range at 75% power and a 20,000 foot ceiling. It has a 1,200 foot per minute climb rate at Gross, and a 2,000 foot per minute climb rate when flown Solo.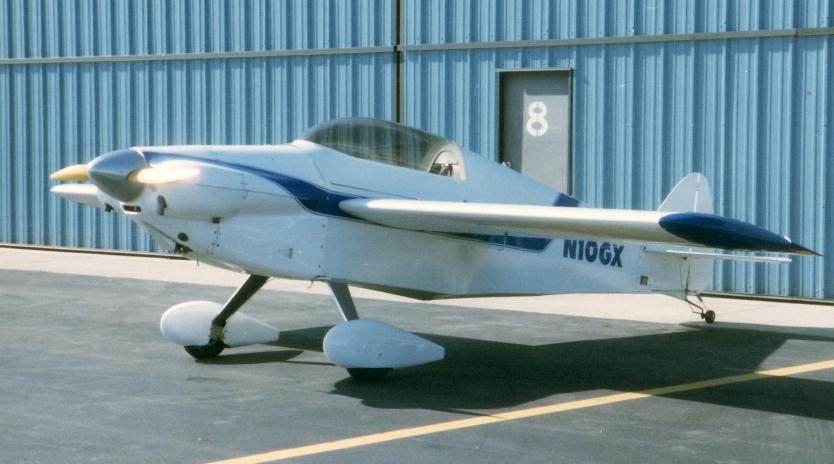 This is a Great Plains Sonerai II, Mid Wing Kit Plane.
I purchased the Sonerai II from a friend for only $8,000.00 in June of 1996 and quickly found out it had a few issues. I spent the next several months fixing those problems. But when the time came to roll it out and start flying, I had my self a wonderful plane. The Sonerai was designed by Steve Monnett and the first one flew in July of 1971. This plane still remains my favorite Kit Plane for the price, and they are a pure pleasure to fly!

Over the next 4 years I racked up over 300 hours in this little beauty and she flew both my Father and I to Oshkosh 4 times. This is the largest Airshow in the world with every kind of plane you can imagine, located in Oshkosh, Wisconsin home of the EAA "Experimental Aircraft Association". If you want a cheap and fun flying plane, this is your plane. The Sonerai II is able to perform Basic Aerobatics with no problem, it is rated at +/- 4.0 G Heavy to +/-6.0 G Solo. Make sure it has the wing mod though for extra safety.
The Sonerai is 18 foot 10 inches in length and has a wing span of 18 foot 8 inches. The empty weight is 520 lbs and it has a max takeoff weight of 950 lbs. The power plant used on it, is a Volkswagen air cooled engine. The Great Plains Aircraft Supply Company currently holds the rights to the Sonerai series aircraft. They supply just about anything you need in terms of spare parts and accessories.

The Sonerai Performance Numbers are pretty impressive for the amount of investment. The Maximum Speed is 174 kts or 200 mph and cruise speed is 122 kts or 140 mph. This plane has a 39 kts stall speed or 45 mph and rate of climb speed of 500 feet per minute. The Sonerai burns around 5 gallons per hour and has a range of about 245 statute miles with a 45 minute reserve. In closing, you could not find a better plane with this kind of performance for less money!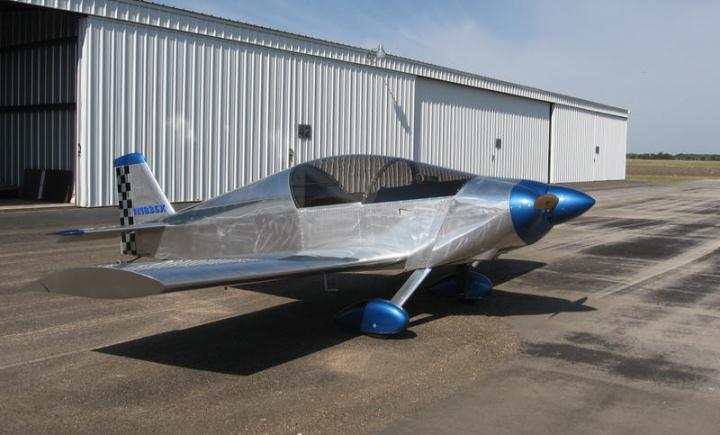 This is Steve Monnett Designed Sonex 2 place Sports Plane.

When building a Sonex Kit Plane, there are two options to choose from, the Conventional Landing Gear or the Tricycle Landing Gear. There are three recommended powerplants to choose from for the Sonex. The 2180cc 4 cylinder Volkswagen, the 4 cylinder 2200 Jabiru 100 hp or the 6 cylinder Jabiru 3300 120 hp engine. What engine you choose depends on weather you want performance or the economy.

The Sonex is a side by side 2 place Kit plane that is 18 foot 1 inch long with a 22 ft Wingspan. The plane stands 4 ft 8 inches high and has a Wing area of 98 square ft. It has an Empty Weight of 620 lbs and a Gross Weight of 1,150 lbs, and carries 22 gallons of fuel on board. The Airfoil used for the wings is a NACA 64-415 type. The average build time if using the Precut, preformed Kit is between 800 & 1000 hrs, and will cost you about $25,000.00 to purchase not including the engine.

The Sonex Performance Specs are as follows: Using a 3300 120 hp Jabiru Engine it has a Cruise Speed of 170 mph at 8,000 ft. The Stall Speed is 40 mph and the Never Exceed Speed is 197 mph. This plane has a flying range of 400 miles and a Service Ceiling of 23,000 ft. The Sonex can do Basic Aerobatics with G Limits at Gross of + 4.4/-2.2. The maximum Glide Ratio is 11:1 with a Climb Rate of 1400 ft per minute.

---
The designer of the RV is Richard Van Grunsven, the Manufacturer of these planes is Van's Aircraft. The RV-3 was the first kit plane introduced in 1971, and the design was inspired from the Stits Playboy. There are four popular models, the RV-3 single place, the RV-4 Dual tandem Cockpit, the RV-6 side by side Conventional & Tricycle versions, and the RV-8 which is a revised version of the RV-4 with a larger cockpit. For the family of four they make the tricycle version only RV-10. There are technically 14 models of the RV that have been built, for more info click here All RV Models.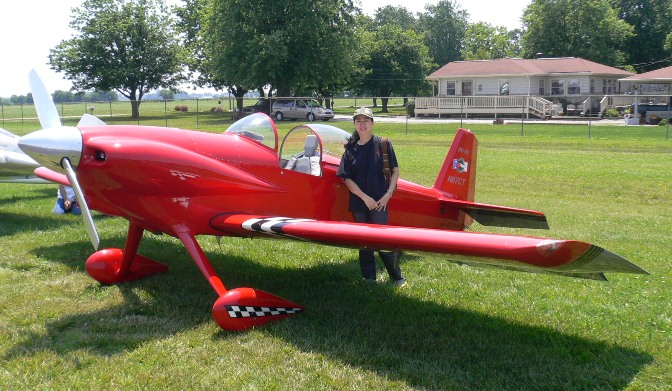 This is a picture of my beautiful wife Wannee standing next to this Amazing RV-3 Single Place Kit Plane.

The RV-3B Single place kit plane is 19 feet long, has a wingspan of 19 foot 11 inches and a Wing Area of 90 foot, and height is 5 foot. The Empty Weight is 750 lbs and Max Takeoff Weight is 1,100 lbs. The RV-3 has an 0-320 150 hp Lycoming fixed pitch prop. She carries 30 gallons of fuel on board and has a 600 statute mile range. This plane was built for some serious cross country flying.

This RV-3B has a maximum speed of 207 mph at sea level with a service ceiling of 23,500 foot. The rate of climb speed for this RV-3 is about 2,050 feet per minute. From front to back this is one very amazing kit plane. You can even perform Basic Aerobatics in the RV-3B with no worries of any kind. The pilots who build, own and fly these beauties are extremely proud and thrilled every time they strap in and head off to fly.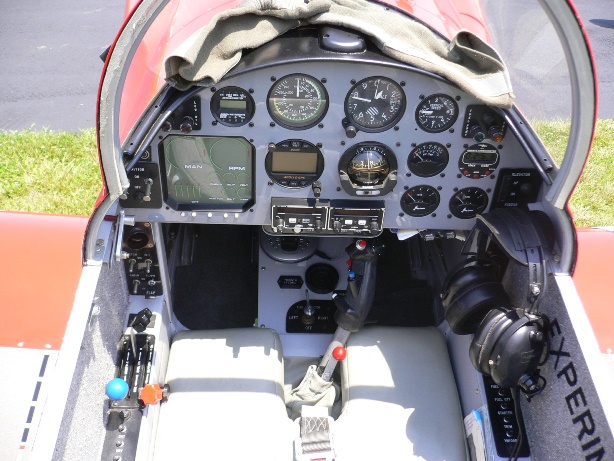 This is the Cockpit of the RV3 above, Pretty sweet Layout.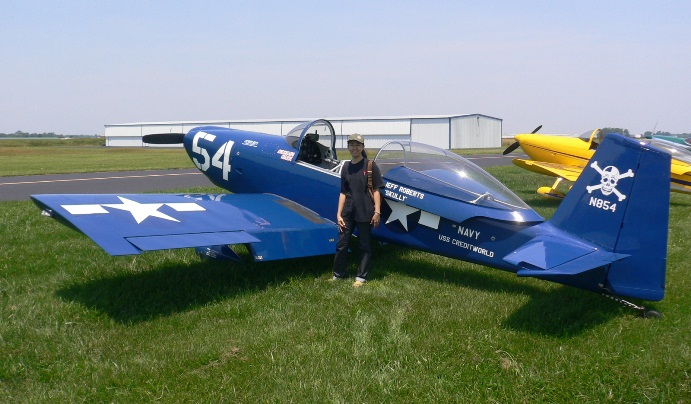 This is the Picture of a RV4 two place tandem Kit Plane.

The RV-4 is a 2 place tandem kit plane that is 20 foot 4 inches long, has a Wing Span of 23 foot 7 inches and is 5 foot 5 inches high. The Empty Weight is 905 lbs and a Max Takeoff Weight of 1,500.00 lbs. The most common engines are the Lycoming 0-320, 0-360 or the IO-360 from 150-180hp. If using the 150 hp engine you will have some outstanding capabilities and performance out of this plane!

This RV-4 has a never exceed speed of 210 mph and a max speed of 200 mph at sea level. It has a flight range of 725 statute miles while Cruising at 8,000 with just 55% power setting. The RV-4 has a service ceiling of 23,000 feet along with a 2,450 foot per minute Rate of climb speed. With full flaps deployed the RV-4 has a stall rate of 50 mph giving it very good short field capabilities.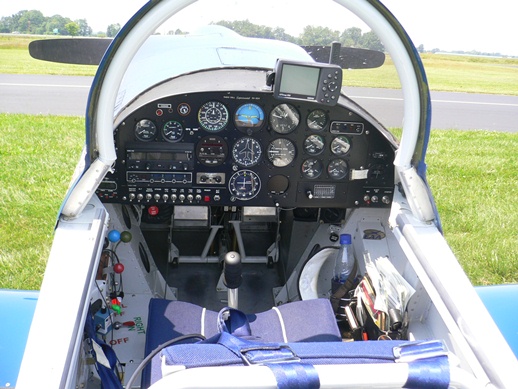 This is the inside Cockpit view of the RV4 above.

---
This Kitfox was originally designed and built by Dan Denney to be a kit plane with folding wings for easy towing. This plane is very popular because it is easy to store and transport anywhere you like. This Plane is built by amateur builders and was first fitted with the Rotax Engine. The Kitfox can use either skis or floats easily adapted to the plane. Currently over 4500 kits have been delivered to over 42 countries world wide. The popular little plane made it's debut in Boise, Idaho in 1984.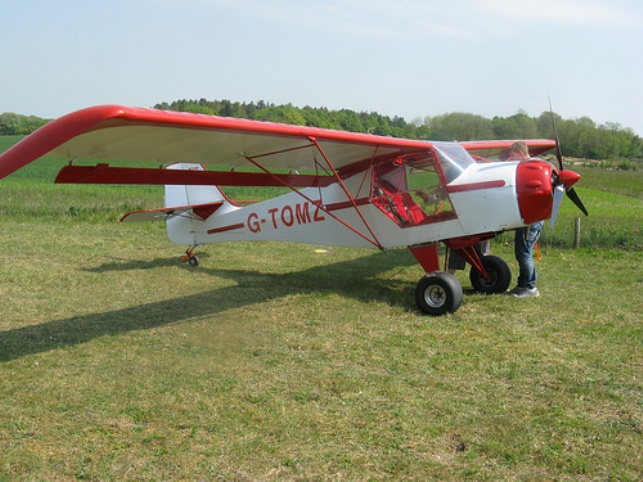 This is the popular Experimental Kitfox Two Place amature Built Aircraft.

The Kitfox has great (STOL) short field take off & landing ability with a stall speed of just 37 mph. There are many different models of the Kitfox since it's introduction in 1984. In 1992 SkyStar Aircraft bought the design rights from Denney Aircraft. A short time Later in 2000 a group of employee assumed control of Skystar producing many new versions of the plane. In 2005 Skystar filed for Bankruptcy and a new company called Kitfox Aircraft sprang up. Once again there were several new versions of the plane added to the mix.

Here are the various Kitfox Models that were manufactured, see list below.
Model 1 The original 1984 Kitfox with a 532 Rotax 64 hp engine housed inside a Radial Cowling, 257 kits were produced.
Model 2 The next Kitfox to come out were the 1989 version with the Rotax 582 64 hp engine. This plane was wider & larger with a Gross weight of 950 lbs, and 490 were produced in total.

Model 3 This Kitfox underwent many design changes and a beefed up engine platform. This allowed the more powerful Rotax 912 80 hp engine to be used, 466 were produced.
Model 4-1050 This model kitfox was a brand new design introduced in 1991. Some of the new mods were a Laminar Flow Airfoil, Flaperon design, metal flaperon attach brackets & a new 2:1 differential aileron control system. You can use either the Rotax 912 or 912S 80/100 hp type engines. There were 322 kits built.
Model 4-1200 (Classic IV) This paticuliar version is also known as the Classic and was introduced in 1991. Some of the changes made were stronger lift struts, gear, legs, and
fuselaage carry-through tubes which increase the gross weight capability to 1,200 lbs. The vertical stabilizer & rudder height was increased by 10 inches, and the rudder width by 2 inches.
Model 4 Speedster This design is a variation of the classic 4 with improvements to both the top end cruise and roll rate.
Kitfox XL This was also a variation of the Classic 4 with a Rotax 503 50 hp as the standard power plant. This Kit design was suppose to be an ultralight trainer but did not sell well.
Kitfox Lite is a single seat version ultralight designed for the North American market. It looked very similiar to the larger Kitfox. This plane is powered by the 2si 460-F35 Two Cylinder, 2 stroke power plant which was converted to free-air cooling and a direct drive, producing 28 hp.
Kitfox Lite is an altered version of the Kitfox XL which was launched in 2001. This new design is powered by the Rotax 503 50 hp engine. The plane featured the radial style engine cowl, Flaperons, and a welded steel fuselage, which was covered with Stits Polyfibre aircraft fabric. This plane is popular both fully built, and in the Kit Form.

Series 5 The series 5 aircraft can be fitted with either the Continental, Lycoming and the Rotax 912 engines. This plane was introduced to the flying community in 1994. The Tailwheel version was named the Safari and Tricycle version was called the Vixen. The Viken also incorporated a swept back tail design which did not take away from the performance. In 1998 the names were changed from Safari to Outback and Vixen to Voyager.
Series 5 Speedster This is a modified version of the Series 5, with clipped wings, thus increasing the Cruise speed.
Series 6 This version has a useful load of 800 lbs with a range of 700 miles and cruised at 120 mph, introduced in 2000. The aircraft can use either the Tricycle or conventional gear.
Series 7 is called the Super Sport and was very well equipped with a variety of higher performance engines. IT can be fitted with the Rotax 914 Turbo, Lycoming, Rotax 912S, Continental, Rotec R2800 or the Jabiru 3300.

The Kitfox can carry one passanger, it is 18 ft 5 inches in length and has a wingspan of 32 feet and is 5 ft high. It's empty weight is 650 lbs and loaded weight is 1200 lbs with a useful load of 550 lbs. The power plant utilizes a Rotax 912 80 hp engine. These planes are a real pleasure to fly, and I would recommend one to anyone.

With a never exceed speed of 125 mph, a maximum speed of 117 mph, cruise speed of 110 mph and a stall speed of 37 mph. This plane has a range of about 785 miles with a Rate of Climb Speed of 1200 fpm, making it a very economical and fun plane to have. What ever you are looking for there is a model that will fit your needs.

---
Another very popular homebuilt aircraft is the Whitman W-8 Tailwind two-seat light plane. This plane has a high wing braced cabin is constructed with steel tubing and has a fabric covered exterior. These planes cruise at speeds around 170kts and only burn about 5 gallons per hour. Making them very economical to own and operate during these tough economical time we are now living in. If you are interested in building a kit plane this might be it.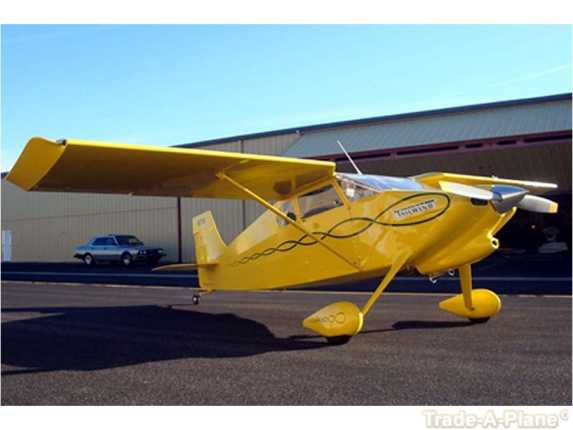 The Whitman Tailwind Home Built Designed by Steve Whitman.

The Tailwind is the third aircraft built and designed by Sylvester J. Whitman, known as Steve Whitman by all who knew him in a series of high-wing aircraft. He was very well known for his Air Racing and race plane designs. Steve was born in 1904 and in 1995 both he and his wife were killed in a one of a kind prototype he built, that they were flying. Steve Whitman was greatly responsible for the emergence of the Homebuilt Aircraft along with his designs here in the United States.

The Whitman Tailwind was the first kit planes in 1953 to be covered under the FAA's Experimental category to be certified to carry a passenger. The plane had a very unusual look to it, but out flew most of the factory built planes like it in those early years. It was not until the composite designs came into play, that they could match the speed per horse power and range of the Tailwind design.

The Tailwind is a 2 place plane that is 19ft 3 inches in length, with a wingspan of 20ft 11inches, wing area of 84 ft, & 5ft 3 inches high. The empty weight is 685 lbs, Gross Weight of 1,235 lbs. This homebuilt design was years ahead of it's time.
With a Continental C85, 85 hp or 65 kW engine the performance numbers were pretty impressive. It has a top speed of 200 mph with a range of 600 miles. The service ceiling is 16,000 feet, with a rate of climb speed of 900 feet per minute.
Here are a few more Models of the Tailwind, see below.

W_10 Tailwind: This is the updated version of the W-8 kit plane with a 25 foot continual tapering wood spar wing along with a foam and composite outer skin construction. This design all so came with a Tricycle Gear option for those pilots who preferred that kind.

W-9 Tailwind: This version has a constant speed prop, carries 35 gallons and uses tricycle landing gear, this version was introduced in 1958.
AJEP Tailwind: This model was marketed in the UK in the 1970's in both a kit plane form and a ready to fly option, primarily between 1974 & 1977.

I have a friend who has built, owned and flown them for many years. He has flown everywhere with it, burning just 5 gallons per hour and cruising 170 knots. Plus the handling characteristics are very smooth and straight forward. When you want a plane that is fast and economical you can't beat the Tailwind. Not only that, they can easily fly in and out of just about any type airfield you like.

In 1974 The Rand Robinson KR-1 was designed in the United States. The KR-1 is a Single seat, single engine sport aircraft. The KR-2 is a Low Wing two place Cantilever Monoplane of conventional design. The cockpit is enclosed with a canopy and has conventional gear. Originally the plane was designed for gear that could be manually retracted folding backwords into the wings, the KR-2T came with Fixed gear.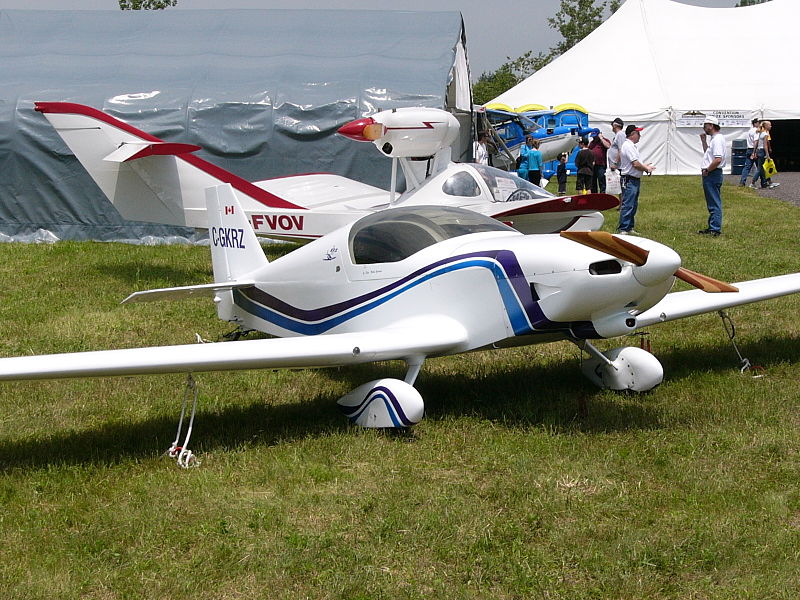 This is a picture of a KR2-S Kit Plane taken at The Oshkosh, WI Airshow.

The KR-2 is a two place kit plane that is 14ft 6 inches long with a wingspan of 20 ft 8 inches and sets about 3ft 6 inches high. This plane has a wing area of 80ft, it has an empty weight of 440 lbs, and a gross weight of 800 lbs. Many of the KR-2 planes are powered by a Volkswagon Air-Cooled Engine with 90 hp.

KR-2s have a maximum speed of 180 mph and a service ceiling of 16,000 ft with a rate of climb speed of 800 ft per minute. These kit planes can hold up to 35 gallons of fuel giving them up to a 1400 mile range. For the amount of money you would spend on one of these, it would be hard to find this kind of performance cheaper in any other kind of plane.

If you don't have much money, yet want to enjoy all the wonders and joy of flying, then you want to take a very serious look at these amazing kit planes, there hard to beat! And if you decide to build one, then you can make it any way you want. That is the joy of home building kit planes, take your time and make it the way you like.

---
Thanks for flying in to see whats new with "Kit Planes", this page is still under Construction but feel free to Bookmark this page and fly-by from time to time and see whats new. As always, stay safe and Happy Flying!!
---
Return From Kit Planes to Pilot-Planes.com